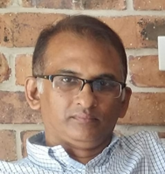 Prof. Abdul Hasib Chowdhury, Bangladeshi
Dr. Abdul Hasib Chowdhury has 25 years of experience in power system reserach. His research interests include power system planning, stability, reliability analysis, contingency and security analysis, vulnerability analysis, power quality analysis etc. He has carried out extensive studies on Bangladesh Power System (BPS), and developed under-frequency load shedding and islanding scheme for BPS. He has first-hand experience accomplishing important national projects in Bangladesh power sector including: "Grid Failure Investigation Project"; "Electromagnetic transients and stability studies to identify the root cause of blackout in the Bangladesh power system"; "Reliability analysis of a major transmission corridor"; "Impact studies of different power plants on Bangladesh power system"; "Energy Efficiency and Integration of Renewable Energy into the Grid in Bangladesh"; "Gid Integration Strategy for Solar PV in Bangladesh," "Study on Grid Stability in Bangladesh." His works also include policy, rules, and regulations pertaining to Bangladesh power system.

Assoc. Prof. Hidayat Zainuddin
Faculty of Electrical Engineering
Universiti Teknikal Malaysia Melaka (UTeM)
Hidayat Zainuddin received his Bachelor's degree in Electrical Engineering from Universiti Teknologi Malaysia in 2003. He then obtained his Master of Science degree in Electrical Power Engineering with Business from University of Strathclyde, Glasgow, in 2005. He received his Ph.D. degree from University of Southampton in 2013.
He has received almost RM 500,000 research grants as a principal investigator and almost RM 1.5 million as a co-researcher. Most of his research mainly towards the sustainability of electrical power system which are associated with green technology, condition monitoring and failure analysis for high voltage transformers. These include investigating the surface discharge behaviour on pressboard impregnated in mineral and ester oils, performance of mineral-ester oil mixture for transformer applications and design and development of optical fiber sensor for online monitoring of transformer oil for smart grid application.
He has authored and co-authored more than 50 technical papers comprising journals and conference proceedings. He also has contributed in reviewing articles for many conferences and journals published by IEEE, IET, Elsevier and others.
---
To be determined ...